Custom Coaster Set Of 4 Puzzle Pieces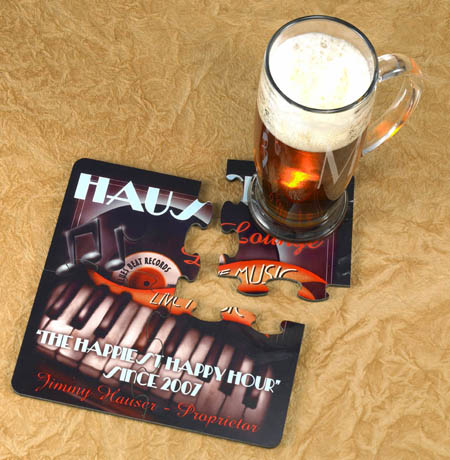 Custom Coaster Set Of 4 Puzzle Pieces | GC458
Add some fun and style to your barware with our entertaining Coaster Puzzles. We offer so many different stylish designs, these custom puzzles separate to become 4 handy coasters. Perfect for parties or a casual atmosphere, our personalized coaster puzzles include your choice of personalization (see each item for design). Great gift for the executive, newlywed couple or retiree! Measures 7 1/2" x 7 1/2" x 1/8".
Free Personalization
Individually Boxed
It's very simple, we care. It's what sets us aside from the rest. We are not looking to make a cheap buck, we are looking out for you and want you to get the best possible product at the best possible price. We are a small customization shoppe with strong American heritage and pride; we run our business by one rule, "Do unto others as you would have them do to you".
We take it a step further though. We want you to be 100% satisfied with your product. We take the extra time to make sure your order is done to perfection. Have a $500 order? You will get great service. Have a $5 order? Same great service. Around here, it's all about you. That's why we say, "Designed by You, Delivered by Ace".
Better yet, read what our customers have to say about us.
customer testimonials
FREE Personlization on this custom Custom Coaster Set Of 4 Puzzle Pieces or any personizable Personalized Family and Kid Gifts! FREE Shipping on all orders over $100! Personalization is our business and quality is our standard, we promise that you will be satisfied with your purchase of any of our custom Personalized Family and Kid Gifts we offer. We are your personalization headquarter for products custom made in the USA. Around here, it's all about you: Designed by You, Delivered by Ace.

Custom Coaster Set Of 4 Puzzle Pieces at BlackAceDesign.com includes Free Personalization! We are your Custom Engraving and Personalization site for custom coaster set of 4 puzzle pieces, gc458, personalized wine coasters, custom wine coaster set, housewarming gifts, unique wine coasters, waterproof coasters, for him gifts, for her gifts, personalized puzzle coasters, custom printed coasters, wedding gifts, personalized family and kid gifts, baitco, darts, cosmo-chic, patriot, swank, house-of-cards, gridiron, golf-academy, baron, bulldog, cowgirl, roadhouse, surf-side, ski-lodge, after-hours, irish, racing, poker, piano, hockey, tiki, golf, sportsman, red-wine, neighborhood-pub, wine-painting, biker, billiards, bowling, irish-whiskey, white-wine, garage, bowl-team, racquet, cosmo, fruitco, dugout, crab-shack, sports-bar, monogram, long-drive, duck-camp, saloon, custom family gifts, customized kids gifts, stylish family gifts, gifts for children and more!
Have a question about this product? Ask away.
contact us
43 different styles / sizes available
BlackAceDesign.com custom engravings and personalized products are done in the USA by Americans.
We stand by that guarantee and are proud of it!
© 2013 BlackAceDesign.com, All Rights Reserved.
every mancave needs something to set it aside from the rest and this set of custom printed coasters is it! show them who has the most style, along with the best mancave. not just for a man though, include the family. makes a outstanding wedding gift or newlywed gift. the choices is yours and is all custom made in the usa! we offer the best prices on custom coasters and housewarming gifts. look no further for your family and friend gifts than blackacedesign.com. custom coaster set of 4 puzzle pieces, gc458, personalized wine coasters, custom wine coaster set, housewarming gifts, unique wine coasters, waterproof coasters, for him gifts, for her gifts, personalized puzzle coasters, custom printed coasters, wedding gifts, personalized family and kid gifts, baitco, darts, cosmo-chic, patriot, swank, house-of-cards, gridiron, golf-academy, baron, bulldog, cowgirl, roadhouse, surf-side, ski-lodge, after-hours, irish, racing, poker, piano, hockey, tiki, golf, sportsman, red-wine, neighborhood-pub, wine-painting, biker, billiards, bowling, irish-whiskey, white-wine, garage, bowl-team, racquet, cosmo, fruitco, dugout, crab-shack, sports-bar, monogram, long-drive, duck-camp, saloon, custom family gifts, customized kids gifts, stylish family gifts, gifts for children