NCAA College Football Locker Room Print With Black Wood Frame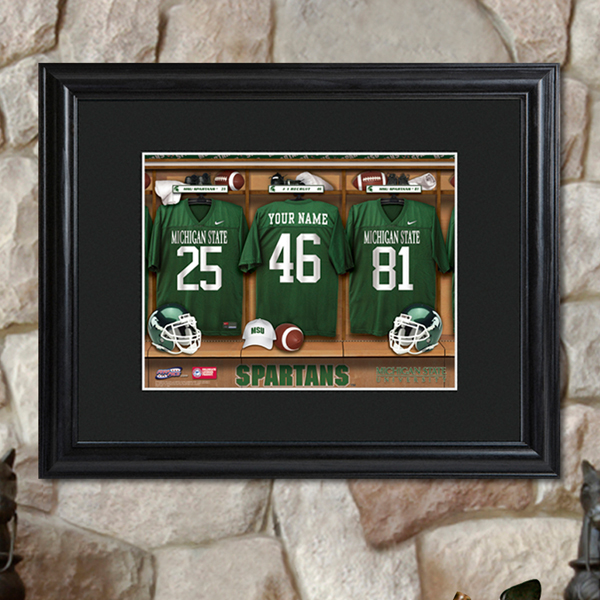 NCAA College Football Locker Room Print With Black Wood Frame | GC733
If NCAA is your passion, then you have found the perfect gift for him, our College Football Locker Room prints. Print can be personalized to include your name (or the name of your favorite football fan) on the center jersey for that personalized touch. The two outside jerseys feature the team name and official helmets and logo are included in the decoration as well. Great gift for the new college student, groomsmen, Father or graduate. Includes a custom black, beveled 23" x 19" wood frame and 3" mat with acrylic front, it matches any style of house or mancave. Photo measures 13 3/4" x 11 3/4". Personalize your jersey with up to 12 characters.
Free Personalization
Individually Boxed
It's very simple, we care. It's what sets us aside from the rest. We are not looking to make a cheap buck, we are looking out for you and want you to get the best possible product at the best possible price. We are a small customization shoppe with strong American heritage and pride; we run our business by one rule, "Do unto others as you would have them do to you".
We take it a step further though. We want you to be 100% satisfied with your product. We take the extra time to make sure your order is done to perfection. Have a $500 order? You will get great service. Have a $5 order? Same great service. Around here, it's all about you. That's why we say, "Designed by You, Delivered by Ace".
Better yet, read what our customers have to say about us.
customer testimonials
FREE Personlization on this custom NCAA College Football Locker Room Print With Black Wood Frame or any personizable Sports Prints With Black Frame! FREE Shipping on all orders over $100! Personalization is our business and quality is our standard, we promise that you will be satisfied with your purchase of any of our custom Sports Prints With Black Frame we offer. We are your personalization headquarter for products custom made in the USA. Around here, it's all about you: Designed by You, Delivered by Ace.

NCAA College Football Locker Room Print With Black Wood Frame at BlackAceDesign.com includes Free Personalization! We are your Custom Engraving and Personalization site for ncaa college football locker room print with black wood frame, gc733, personalized stadium prints, custom ncaa frame, college locker room print, your name prints, custom college football prints, birthday gifts, christmas gifts, den gifts, groomsmen gifts, college football print, officially licensed ncaa print, sports prints with black frame, wisconsin, washingtonstate, washington, virginiatech, baylor, purdue, alabama, tcu, auburn, georgia, miami, kansas, missouri, pittsburgh, arkansas, iowa, southflorida, texastech, tennessee, utah, virginia, floridastate, oklahomastate, lsu, michigan, michiganstate, iowastate, notredame, texasam, ohiostate, florida, illinois, boisestate, kansasstate, northcarolinastate, southcarolina, nebraska, rutgers, sports framed prints, large sport signs, ncaa prints, nfl prints, mlb prints, college hangout signs, sports pub signs and more!
Have a question about this product? Ask away.
contact us
38 different styles / sizes available
BlackAceDesign.com custom engravings and personalized products are done in the USA by Americans.
We stand by that guarantee and are proud of it!
© 2013 BlackAceDesign.com, All Rights Reserved.
ncaa framed prints: personalize a jersey of your favorite ncaa team. our custom ncaa framed prints are a must for any college football fan out there! they all come with free personalization and are of the highest quality at the lowest price, to last for years and years. these custom gifts can be personalized with your name on the jersey, to make it look like you played for the team! these ncaa locker room prints are one of our hottest sellers and are a must have for any office, den or man cave. you love your team and we love personalizing these for free, so do not delay in ordering your personalized ncaa frame print today! just like the makeup of the teams, we are made in america and proud of it! all of our ncaa collegiate framed prints are personalized here in the usa. all come with the official collegiate stamp of the ncaa. we personally enjoy college football and have some of these in our personal homes, offices and dens. they are an american classic for an american heritage. personalize an ncaa framed print of your choice, at a spectacularly low price today. personalized ncaa prints, custom ncaa prints, college football framed prints, locker room prints, college locker room, your name on jersey, ncaa framed prints, custom ncaa prints, personalized ncaa prints, ncaa framed prints, college locker room gift, your name on jersey prints, collegiate gifts personalized ncaa locker room prints and frame including: ohio stadium, michigan stadium, notre dame stadium, bryant denny stadium, spartan stadium and many more! personalized ncaa locker room prints and black frames for mancave. ncaa college football locker room print with black wood frame, gc733, personalized stadium prints, custom ncaa frame, college locker room print, your name prints, custom college football prints, birthday gifts, christmas gifts, den gifts, groomsmen gifts, college football print, officially licensed ncaa print, sports prints with black frame, wisconsin, washingtonstate, washington, virginiatech, baylor, purdue, alabama, tcu, auburn, georgia, miami, kansas, missouri, pittsburgh, arkansas, iowa, southflorida, texastech, tennessee, utah, virginia, floridastate, oklahomastate, lsu, michigan, michiganstate, iowastate, notredame, texasam, ohiostate, florida, illinois, boisestate, kansasstate, northcarolinastate, southcarolina, nebraska, rutgers, sports framed prints, large sport signs, ncaa prints, nfl prints, mlb prints, college hangout signs, sports pub signs