Custom Printed Couples Love Pillow Case Set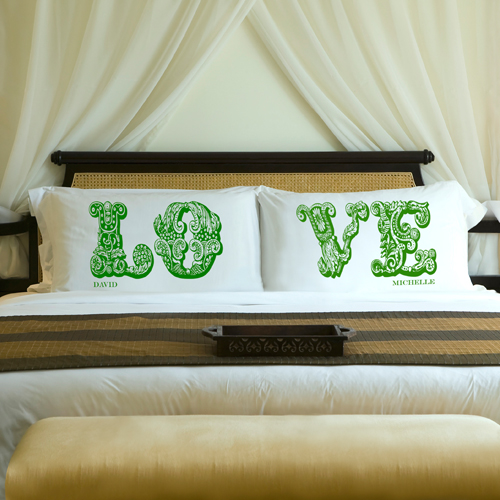 Custom Printed Couples Love Pillow Case Set | GC891LOVE
You can't have one without the other! These beautifully designed personalized pillow cases complete each other! Custom printed on a soft Poly Sateen white pillowcase, the LOVE letters on this bedding are accompanied by the first names of the recipients. Useful and unique! Each pillow case measures 22" x 30" and fits a standard or queen sized pillow. Long lasting slumber, high quality and machine washable. Select design color and personalize with "his" and "her" first names or with any other saying up to 15 characters on each pillow case.
Free Personalization
It's very simple, we care. It's what sets us aside from the rest. We are not looking to make a cheap buck, we are looking out for you and want you to get the best possible product at the best possible price. We are a small customization shoppe with strong American heritage and pride; we run our business by one rule, "Do unto others as you would have them do to you".
We take it a step further though. We want you to be 100% satisfied with your product. We take the extra time to make sure your order is done to perfection. Have a $500 order? You will get great service. Have a $5 order? Same great service. Around here, it's all about you. That's why we say, "Designed by You, Delivered by Ace".
Better yet, read what our customers have to say about us.
customer testimonials
FREE Personlization on this custom Custom Printed Couples Love Pillow Case Set or any personizable Wedding Gifts! FREE Shipping on all orders over $100! Personalization is our business and quality is our standard, we promise that you will be satisfied with your purchase of any of our custom Wedding Gifts we offer. We are your personalization headquarter for products custom made in the USA. Around here, it's all about you: Designed by You, Delivered by Ace.

Custom Printed Couples Love Pillow Case Set at BlackAceDesign.com includes Free Personalization! We are your Custom Engraving and Personalization site for custom printed couples love pillow case set, gc891love, personalized pillow cases, wedding printed gift, customized love pillows, newlywed couple gifts, bedroom love pillows, gifts for brides, poly sateen custom pillow, quality personalized pillow cases, wedding gifts, blue-royals, garden-green, whimsical-wine, romantic-red, blissful-blue, midnight-black, shimmering-sand, truffle-brown, personalized wedding gifts, wedding framed prints, personalized wine glasses, wedding day prints, honeymoon gifts, studio canvas, monogram glass, newlywed gifts, custom anniversary, buy personalized wine glasses and more!
Have a question about this product? Ask away.
contact us
8 different styles / sizes available
BlackAceDesign.com custom engravings and personalized products are done in the USA by Americans.
We stand by that guarantee and are proud of it!
© 2013 BlackAceDesign.com, All Rights Reserved.
custom printed couples love pillow case set, gc891love, personalized pillow cases, wedding printed gift, customized love pillows, newlywed couple gifts, bedroom love pillows, gifts for brides, poly sateen custom pillow, quality personalized pillow cases, wedding gifts, blue-royals, garden-green, whimsical-wine, romantic-red, blissful-blue, midnight-black, shimmering-sand, truffle-brown, personalized wedding gifts, wedding framed prints, personalized wine glasses, wedding day prints, honeymoon gifts, studio canvas, monogram glass, newlywed gifts, custom anniversary, buy personalized wine glasses