Wood Engraved Mini Oak Whiskey Barrel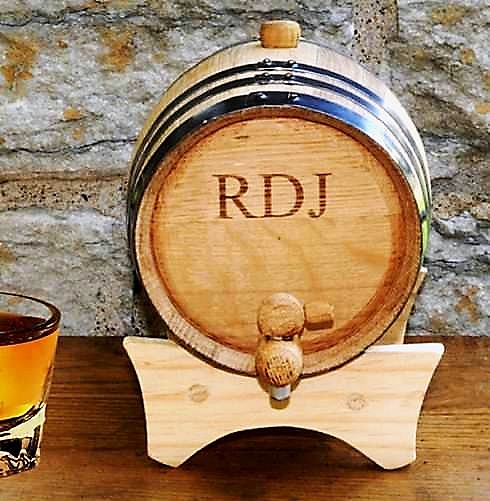 Wood Engraved Mini Oak Whiskey Barrel | MINIOAK755
Steel-banded Oak 2 liter Barrel/Cask comes with its own stand, spigot and bung make for convenient serving and filling. Also includes, instructions for curing, cleaning and sanitizing barrel before use. SIZE: Barrel measures 7.5 x 5 x 5 PERSONALIZATION: Personalize with up to 10 characters in font shown in picture (monotype font). OR 1 line up to 15 characters in script font (search our site for wine barrel for picture).
Free Personalization
Free Laser Engraving
It's very simple, we care. It's what sets us aside from the rest. We are not looking to make a cheap buck, we are looking out for you and want you to get the best possible product at the best possible price. We are a small customization shoppe with strong American heritage and pride; we run our business by one rule, "Do unto others as you would have them do to you".
We take it a step further though. We want you to be 100% satisfied with your product. We take the extra time to make sure your order is done to perfection. Have a $500 order? You will get great service. Have a $5 order? Same great service. Around here, it's all about you. That's why we say, "Designed by You, Delivered by Ace".
Better yet, read what our customers have to say about us.
customer testimonials
FREE Personlization on this custom Wood Engraved Mini Oak Whiskey Barrel or any personizable For Him Gifts and Accessories! FREE Shipping on all orders over $100! Personalization is our business and quality is our standard, we promise that you will be satisfied with your purchase of any of our custom For Him Gifts and Accessories we offer. We are your personalization headquarter for products custom made in the USA. Around here, it's all about you: Designed by You, Delivered by Ace.

Wood Engraved Mini Oak Whiskey Barrel at BlackAceDesign.com includes Free Personalization! We are your Custom Engraving and Personalization site for wood engraved mini oak whiskey barrel, minioak755, personalized barrel, custom barrel, classic whiskey barrel, groomsmen gifts, fathers day gifts, stylish oak barrel, unique whiskey barrel, barrel for him, unique man gift, pub accessories, groom gifts, gifts from her, bridesmaid gifts, wedding day gifts, housewarming gifts, for him gifts and accessories, for him gifts, gifts for men, personalized mens accessories, mens birthday gifts, custom dad gifts and more!
BlackAceDesign.com custom engravings and personalized products are done in the USA by Americans.
We stand by that guarantee and are proud of it!
© 2013 BlackAceDesign.com, All Rights Reserved.
age your own with our personalized whiskey barrel. the steel-banded oak 2 liter barrel can be used for aging or serving your favorite wine or liquor. one of the hottest sellers we offer at a outstanding price for a custom whiskey barrel. your groomsmen will feel like real men and finally be able to drink like a real man! this custom engraved oak barrel looks outstanding in a kitchen or home bar. perfect for a newlywed couple, as a wedding party gift or as a housewarming gift! currently our top seller for groomsmen or for the groom. this is an ideal gift of luxury for those guys who need something unique. any groomsman will be happy to get this one of a kind custom whiskey cask! wood engraved mini oak whiskey barrel, minioak755, personalized barrel, custom barrel, classic whiskey barrel, groomsmen gifts, fathers day gifts, stylish oak barrel, unique whiskey barrel, barrel for him, unique man gift, pub accessories, groom gifts, gifts from her, bridesmaid gifts, wedding day gifts, housewarming gifts, for him gifts and accessories, for him gifts, gifts for men, personalized mens accessories, mens birthday gifts, custom dad gifts