Product of the Month
Save 15% off the regular price!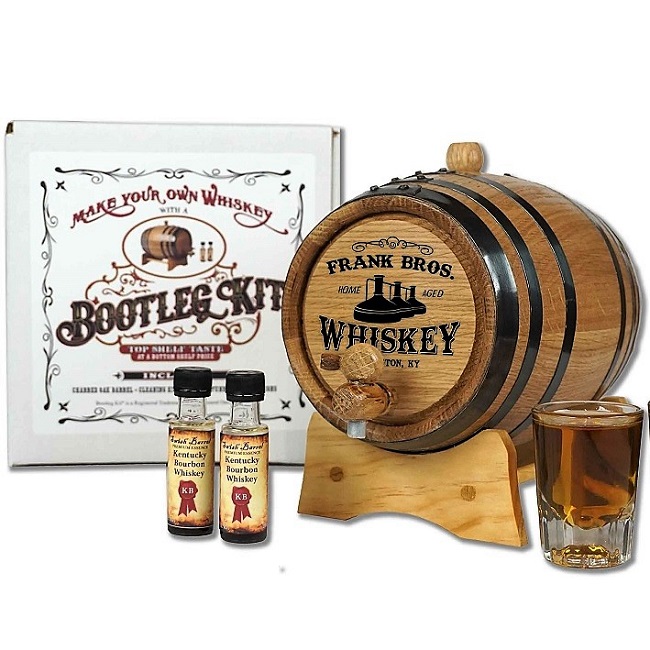 Personalized Kentucky Bourbon Barrel Bootleg Kit
OBC-BTK_B824
The perfect gift for that whiskey afficianado. Makes and ages your own Kentucky Bourbon in a real American White Oak 2 Liter Barrel. This complete set includes a 2 Liter Black Banded barrel with medium char, 2 bottles of Kentucky Bourbon essence and complete instructions of what to do! Full Grain Alcohol NOT included (or shot glass - for illustration purposes only). BARREL SIZE: 2 Liter 7.5" x 5" x 5" inches. PERSONALIZATION: LINE#1: replace "FRANK BROS.", LINE#2: replace "LEXINGTON, KY" with your city and state. ALL OTHER TEXT IS STANDARD!
Free Laser Engraving
Includes hardware: wooden spigot, bung seal, storing tablet, natural wood stand (unstained).
**No ink used. Design artwork with personalization is burned on to barrel (laser inscribed).
Stores and Ages any Spirit/Wine/Beer
Made in the USA.
Our promotions are all about saving you money!
Just when you thought our prices couldn't get any better, we introduce this promotion! This product promotion isn't about us though, it is about YOU. Designed for You, Delivered By Ace. Here at BlackAceDesign.com, we know our customers enjoy the feeling of getting a good deal and we enjoy making you, the customer, happy. This simple, yet elegant personalized gift offers transparent beauty with a hint of something different. Know that when you browse our collection of outstanding personalized gifts, you are sure to find something to satisfy everyone's taste AND everyone's budget.
All gifts and awards are personalized in the Good Ole' USA by Americans.
We stand by that guarantee and are proud of it!
© 2019 BlackAceDesign.com, All Rights Reserved.