Product of the Month
Save 15% off the regular price!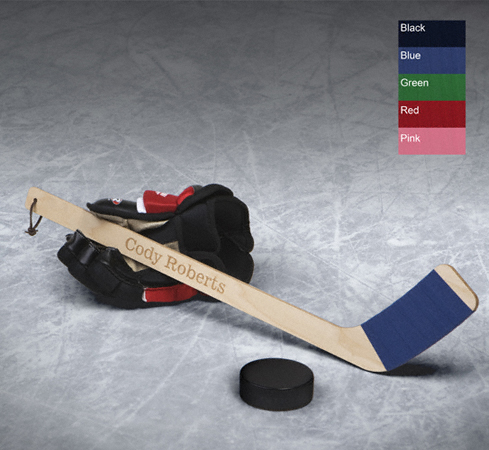 Personalized Mini Hockey Stick With Leather Strap
GC723
Score a hat trick with this mini hockey stick, made of a lightweight wood composite, allowing it to be easily hung on any wall by our leather, old-time hockey strap. And the hat trick mini stick is durable enough for your passionate young hockey player's rousing game of knee hockey. Stick measures 21" long with a 5 1/2" blade. PERSONALIZATION: LINE#1: laser engraving up to 20 characters, LINE#2 - tape color (black, blue, green, red or pink).
Free Laser Engraving
Free Personalization
Our promotions are all about saving you money!
Just when you thought our prices couldn't get any better, we introduce this promotion! This product promotion isn't about us though, it is about YOU. Designed for You, Delivered By Ace. Here at BlackAceDesign.com, we know our customers enjoy the feeling of getting a good deal and we enjoy making you, the customer, happy. This simple, yet elegant personalized gift offers transparent beauty with a hint of something different. Know that when you browse our collection of outstanding personalized gifts, you are sure to find something to satisfy everyone's taste AND everyone's budget.
All personalized groomsmen gifts, personalized party favors, and personalized wedding gifts are personalized in the Good Ole' USA by Americans.
We stand by that guarantee and are proud of it!
© 2018 BlackAceDesign.com, All Rights Reserved.
hockey is becoming a popular sport in the usa and it starts with our youth! this personalized hockey stick is the perfect gift for your kid or the child in your life! make your classic mini hockey stick even more custom by choosing his or her favorite team's color hockey tape available in black, blue, green, red, and pink. personalization is laser-etched directly into the wood composite stick creating a gift made ecustomly for your hockey fanatic. personalized mini hockey stick with leather strap, gc723, hat trick hockey stick, personalized hockey stick, custom hockey gear, personal mini hockey, wall mounted stick, unique hockey gift, custom youth hockey stick, kids personalized hockey stick, for him gifts and accessories, for him gifts, gifts for men, personalized groomsmen gifts, personalized mens accessories, mens birthday gifts, custom dad gifts, boss gifts, cool guy gifts